TME Services
With over 18 years of experience in the industry, TME Services has been one of the leading one-stop solution providers for all business needs in the Middle East. We have established over 700 companies, helping them navigate the complexities of starting and operating a business in the region. Our extensive range of services includes company formation, legal services, visa and immigration assistance, accounting and taxation support, IT consulting, branding, and digital marketing services, among others.

Clients currently managed
Our team of highly experienced and qualified professionals are dedicated to providing unparalleled support and innovative solutions to empower businesses to overcome challenges and achieve sustainable growth and success. We take pride in our commitment to understanding our clients' unique needs and delivering tailored solutions that exceed their expectations.
As a trusted partner in the Middle East business landscape, we continue to contribute to the growth and prosperity of the region by helping businesses thrive and adapt to the ever-changing market dynamics. Our mission is to become the most sought-after consulting company in the UAE, recognized for our comprehensive range of services, unparalleled expertise, and unwavering dedication to our clients' success.
Mission
At TME Services, our mission is to provide comprehensive, tailored, and innovative solutions to address all aspects of our clients' business needs in the Middle East. We strive to be the one-stop solution provider, delivering exceptional services in all areas of business operation to ensure the growth and success of our clients.
Vision
Our vision is to be the leading consulting firm in the Middle East, recognized for our expertise, commitment to excellence, and exceptional client service. We aim to create long-lasting partnerships with our clients, fostering their success by providing unmatched, innovative, and personalized solutions that drive their businesses forward in an ever-evolving market.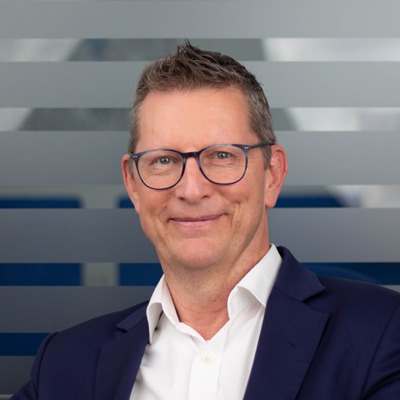 Uwe Hohmann
Managing Partner
MBA Tax Law / Commercial- & Tax Consultant

Uwe is a results-driven leader with extensive business, sales, and process improvement experience with strong presentational, analytical, and decision-making skills which he has honed through over 40 years of expertise. With a proven ability to perform in fast-paced environments he is passionate about building new relationships, assessing clients' needs, and formulating strategic action plans to go above and beyond clients' expectations.
Omar Sami
Managing Partner
Attorney at German Law / Legal- & Tax Consultant

Omar is a German qualified Lawyer and Tax Consultant in Dubai. For the past seven years he has worked for a German international Law and Tax Firm in Dubai. Omar is specialized in tax consultation, covering VAT, Withholding Tax, and Corporate Income Tax in the United Arab Emirates, Saudi Arabia, and the GCC. He is in close contact with the Federal Tax Authorities, maintaining a valuable relationship and network, from which our clients benefit. Omar has published the first and only manual about UAE VAT, covering all necessary information about tax implementation in the region. He offers frequent webinars and seminars providing our clients with needful information and updates on all tax-related matters. In close cooperation with our German tax colleagues, Omar is able, to not only asses transactions but also lead the client's market entry in the most advantageous way.
Derya Bandak
Partner
Attorney at German / Law Legal- & Tax Consultant

Derya is a German qualified Lawyer with more than 10 years of expertise in the region. For the past 10 years she was appointed as managing partner of a German international Law and Tax Firm in Dubai and Saudi Arabia. Derya is working in the legal field for more than 15 years with an in-house background as well as private practice experience in Germany; most of her professional time she spent in the Middle East Region, advising clients from Europe in the context of their market entry mainly in the UAE, but also in other countries in the GCC. Derya has wide experience in UAE labor and employment law, as well as in commercial and corporate matters. She supported clients during M&A Transactions in the Region and advised multinational companies in complex tax matters.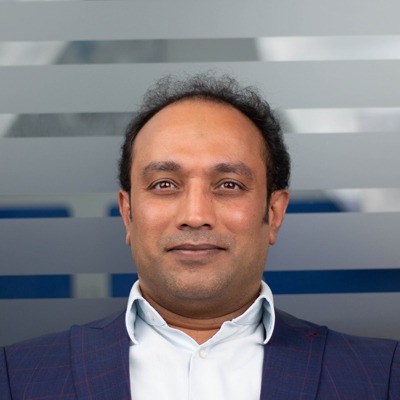 Dijendra Hegde
Manager - Accounting
Dijendra is a highly skilled Accounting Manager with a proven track record of success in managing financial operations. With over a decade of experience in the field, Dijendra's expertise spans financial analysis, budgeting, and regulatory compliance. As a detail-oriented professional, he consistently ensures accuracy and efficiency in all aspects of the accounting department. As a dedicated member of our organization, Dijendra's unwavering commitment to excellence helps drive our company to deliver the best results.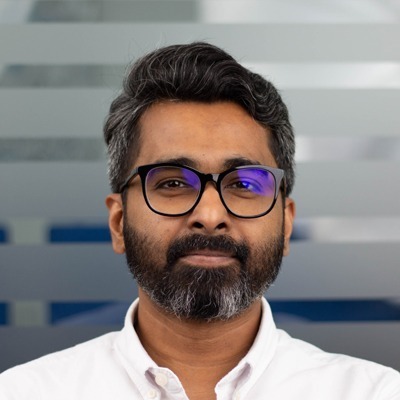 Hafees Hameed
Manager - IT Consulting
Hafees is an accomplished IT Manager, recognized for his extensive knowledge and experience in Information Technology and Systems Management. With over 19 years of experience in the industry, Hafees has developed a strong background in network administration, security, and infrastructure management. As a solutions-oriented leader, he effectively manages the IT department and constantly seeks innovative ways to optimize processes and ensure the highest level of efficiency. As an integral part of our company, Hafees is committed to seamlessly integrating technology-oriented solutions to drive our client's business forward.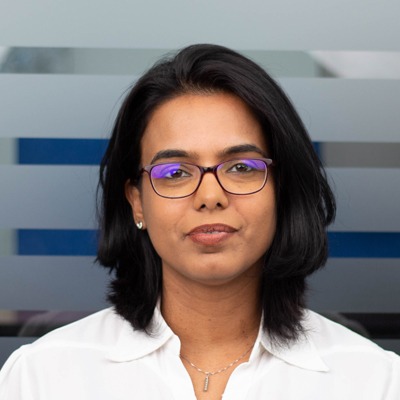 Natali Wood
Manager – Client Support
Natali is a dedicated Client Support Manager with a passion for delivering exceptional customer experiences. With extensive experience in client relations, Natali excels at building strong connections and understanding the unique needs of each client. Her ability to manage a diverse team, coupled with her tireless commitment to excellence, ensures that our clients consistently receive top-tier service. As a vital member of our team, Natali plays a key role in maintaining our company's reputation for outstanding client satisfaction.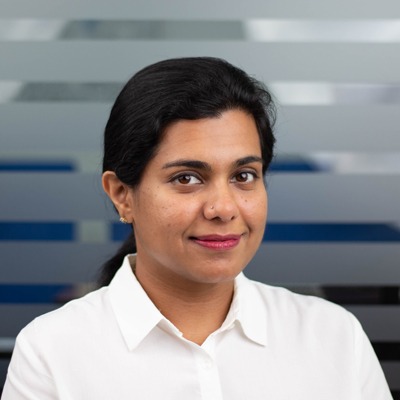 Malavika Kolera
Manager - Tax & Compliance
Malavika is an experienced Tax & Compliance Manager and a qualified charted accountant from the Institute of Chartered Accountants of India. She is known for her dedication to maintaining the highest standards of regulatory adherence. With over a decade of expertise in tax and compliance, Malavika's vast knowledge enables her to expertly navigate complex legal requirements and implement effective strategies. Her keen analytical skills, combined with her thorough understanding of tax law, make her an invaluable asset in identifying potential risks and delivering comprehensive solutions. As a crucial member of our organization, Malavika's unwavering commitment to excellence ensures we maintain complete regulatory compliance across all aspects of our client's businesses.
Michelle Reinhard
Manager - Business Development
Michelle is a highly skilled Business Development Manager dedicated to guiding businesses through the complexities of establishing their operations in the Middle East. With strong experience in the field, Michelle has honed her expertise in navigating the intricacies of company registration processes. Her exceptional communication skills and strong attention to detail enable her to efficiently address clients' needs, ensuring a seamless company setup experience. In her role within our organization, Michelle's commitment to excellence and customer satisfaction has made her an indispensable asset to our clients and team.
Damir Novalic
Manager - Digital Marketing
Damir is a forward-thinking Digital Marketing Manager and AI Prompt Engineer, skilled in leveraging the power of technology to create captivating marketing campaigns. With over 10 years of experience in digital marketing, Damir's expertise spans search engine optimization (SEO), social media marketing, and content strategy, while also excelling in the development of AI-generated content prompts. His unique combination of marketing acumen and technical proficiency allow him to deliver innovative solutions that resonate with target audiences and drive engagement. As a collaborative leader Damir creates an environment where his team can contribute their diverse talents to achieve our client's marketing and technological objectives.
Nicole Pavlik
Manager - Operations
Nicole Pavlik is a seasoned Operations Manager, noted for her comprehensive understanding and proficiency in Management Support and Business Operations. Boasting over 5 years of experience in the sector, Nicole has honed a substantial skillset in administrative assistance, coordination, and strategic management. She oversees executive support functions efficiently and continuously pursues groundbreaking strategies to streamline operations and deliver top-tier efficiency. An invaluable asset to our organization, Nicole is devoted to implementing executive solutions that propel our company's vision forward.
Dakshath Shetty
Senior Accountant
Kumar Mukesh
Public Relations Officer (PRO)
Katherine Sheppard
Business Setup Specialist
Ulesh Unnichekan
Public Relations Officer (PRO)
Tariq Zarif
Senior Accountant
Reshma Joseph
Accountant (Tax)
Ashly Biju
Client Support Executive (Invoicing)
Praveen Anton
Senior IT Consultant
Jovel Tiro
Driver / Messenger
Marshal Mariyadas
Accountant
Yashika Fernandes
Accountant (Compliance)
Alstriya Louis
Accountant (Payments)
Tazeen Farooqui
Accountant (Audit Guiding)
Wilma Menezes
Client Support Executive
Lindon Nazareth
Accountant
Wafa Sultana
Client Support Executive
Rowelyn Jocson
Bank Account Specialist
Somanna Suresh
Accountant
Surya Thulaseedharan
Client Support Executive
Roja James
Accountant (Tax & Compliance)
Alyssa Marie Castillo
Client Support Executive
Amalrosh Anilkumar
Accountant
Muhammed Anshad
Accountant (Tax)
Via Rosales
Client Support Executive
Aiswarya Ajaykumar
Client Support Executive
Marjorie Arana
Client Support Executive